Monte Carlo Simulation in AmiBroker เป็นการสุ่มค่าแบบต่างๆเพื่อทำการจำลองระบบการซื้อขายหุ้น และคำนวนค่าความน่าจะเป็นของค่าต่างๆเช่น CAR และ MDD ซึ่งการทำ Simulation ใน AmiBroker สามารถแบ่งออกได้หลักๆ 2 ประเภท คือ แบบสุ่มลำดับการเทรด Trade Shuffling (AmiBroker's Built-in Feature) และแบบสุ่มค่าตัวเลข Trade Modeling (User's code)

เพื่อให้เข้าใจถึงเหตุผลและความจำเป็นในการใช้ Monte Carlo Simulation in Trading System โดยเฉพาะใน โปรแกรม AmiBroker ผมขอเกริ่นนำคร่าวๆดังนี้
Why do we perform Monte Carlo Simulation?
Probability of Risk & Reward
Worst Scenarios of Risk & Reward
Strategy Robustness
What is Monte Carlo Simulation?
Random Sampling
Calculate Statistical Parameters: CAR, MDD, …
How many types of Monte Carlo Simulation in AmiBroker?
Trade Shuffling, AmiBroker's Built-in Feature
Trade Modeling (or Trade Simulating), User's code
วีดีโอสำหรับ Monte Carlo Simulation
หมายเหตุ: วีดีโอชุดนี้เป็นส่วนหนึ่งของ AmiBroker Quant Course ในส่วนของ 02 Coding Template->06 Simulation
วีดีโอสำหรับ Two Types of MC Simulation in AmiBroker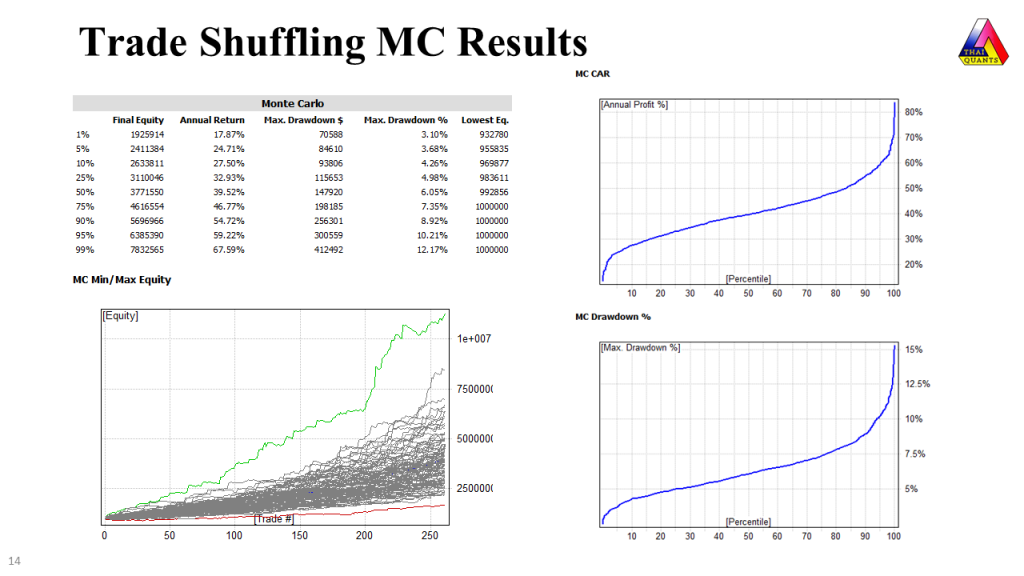 Advantages of Trade Shuffling
Ready to use (AmiBroker's built-in feature)

Provide necessary basic statistical parameters

Fast

Suitable for new traders and testing process
Disadvantages of Trade Shuffling
Assumptions of independent trades

Simulation results derived from only one trade list

Limited position sizing methods

Mission various important statistical parameters
Advantages of Trade Modeling (Trade Simulating)
User controls all aspects of simulation model.

User can perform sensitivity analysis.

Results can be very close to actual trading.

Assumptions by user can be used to monitor actual trading.
Disadvantages of Trade Modeling
User's assumptions could be wrong: percent of slippage, percent of missing trades, …

Not ready to use. User must code his/her assumptions into the code.

Slow. Take times to run many backtests.

User must manually calculate statistical parameters.
เพิ่มเติม Monte Carlo Simulation in AmiBroker